Summer Vacations in Western Canada
Travelling around the Canadian Rockies and Western Canada in the spring, summer and autumn (fall) months has never been easier when you book through us. We combine hotel accommodation with motorcoach (bus) tours, transfers, car rental and of course, the award winning Rocky Mountaineer Train, for a seamless and smooth itinerary from the moment you arrive. We also offer 7 night round-trip cruises out of Vancouver or Seattle to Alaska with our Rocky Mountaineer packages for the ultimate adventure.
Our buying power here as well as our extensive knowledge of non-Canadian resident tax rebate entitlement means that you receive the lowest rates, as well as exclusive offers which saves you money compared to booking everything separately. Save time and money: Contact us to get started with your vacation planning here in Western Canada.
For all single day tours and activities in the Canadian Rockies and Western Canada, contact us and we'd be happy to connect you with one of our local resort-based partners who can provide more assistance.
Vacation Package Components
Hotels in the Canadian Rockies & Canada

From iconic castles and châteaus set amongst specular mountain scenery to tranquil rustic lodges and chalets where wildlife roam, we provide a range of accommodation here to suit every budget and preference. Combining your hotel accommodation stays and services with us as part of a vacation package allows you to take advantage of Canada Revenue's tour incentive tax rebate for non-Canadian Residents instantly. No additional paperwork for you to complete is required, we take care of it all so you never overpay. Suitable hotel accommodation is the backbone of any vacation package - let us help you create an unforgettable vacation.
---
Travel by Rocky Mountaineer Train

The Rocky Mountaineer is the only all-daylight sightseeing train connecting the Canadian Rockies to the Pacific Coast. This spectacular train journey includes an overnight in Quesnel or Kamloops and is a memorable addition to any Canadian Rockies vacation package. This train operates from late April through until early October and there are 3 levels of service to choose from; RedLeaf, SilverLeaf and the luxurious GoldLeaf service. This service does not operate daily and so we can ensure the Rocky Mountaineer train is integrated into your travel itinerary to maximise your time here.
---
Travel by Motorcoach (Bus)

Sit back and let someone else do the driving! Your experienced driver-guide will point out the sights en route allowing you to take your eyes off the road and place them on the scenery ensuring you don't miss a thing. Onboard washrooms and air conditioning makes for a comfortable journey as you travel through the breath-taking scenery of Western Canada. Large picture windows and stops at the main sights allow you capture great photos. Sightseeing motorcoach tours can be taken on their own or with the Rocky Mountaineer train as part of your vacation package with us.
---
Self-Drive Option (Car or Minivan Rental)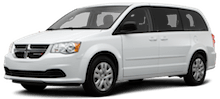 This option is for ultimate freedom allowing you to travel at your own pace. We organise your hotel accommodation along the way and plan your itinerary so you never need to worry about finding suitable places to stay en route. A popular choice is combining car rental with the Rocky Mountaineer train. For most of our self-drive car rental packages, you don't pay for your car rental until dropping off the vehicle and you can cancel your car rental at anytime before travel without penalty giving you the opportunity to switch your car rental until the last minute. With car rentals, typically the early-birds get the best deals so be sure to book with us in advance.
---
Alaska Cruise Add-On from Vancouver or Seattle

A cruise up to Alaska is a welcomed addition to any vacation package in Western Canada. From the cruise ships you will likely spot a variety of whales as well as other marine mammals. If you are lucky you may even spot a bear or two roaming along the Alaskan shorelines as eagles soar above. This is truly a memorable experience and for those of you who appreciate the wilderness, you will be wowed by the dramatic landscapes and glaciers spilling into the ocean around you as you cruise into Glacier Bay National Park. The cruises we offer start and finish in either Vancouver or Seattle.